Free Philips Hue control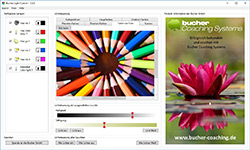 Bucher Light Control operates your Philips Hue light. Control individual lights or create complete scenes which you can call up by a single click. You can control most of the lights and devices that can be integrated into a Philips Hue bridge. Thus it is possible to control the colour, the colour saturation and the brightness of colour lights. In white lights you can control the brightness. You can also use other devices e.g. controllable sockets with them.
You can even start simple colour-light therapies via our light control.
We checked the following lights and devices together with our software:
Philips Hue Color RGBW LED E27 (bulb)
Philips Hue Go (Philips light)
Philips Hue Iris (Philips light)
Innr E27 smart, color LED light (bulb)
Innr E27 smart, warm white LED light (bulb)
OSRAM LIGHTIFY Plug (controllable socket)
However, almost all devices connected to the Hue bridge can be controlled.
Bucher Light Control is a freeware and so you can download and use it for free. By downloading and using our software you accept our
terms of use
.