based on "The Psychology of Money" by Dr. Ruediger Dahlke
All functions that are needed from a Coaching Software
Client management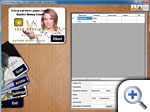 Capture and manage all your clients and company data in the Bucher Money Coach.
In the address window all clients are listed and can be sorted alphabetically by all the information (for example, name, first name, ZIP code, city, etc.)
Scanning of "monetary resonances"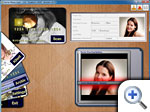 A query of the morphic field is used to look for money with which the client resonates.

With the help of the client image and the address of your client, resonances are searched in the complete book "The Pschology of Money". In addition, it is asked which exercise the client should perform. All results are displayed after the scan in a report, which can be printed on request.
Multimediale exercise for the recognition of the problem solution by the "first thought"
With the help of multimedial exercise, the resonances found are harmonized and the "first thought" is called into consciousness.

The more than 1000 stars in the multimedial exercise (3D images and sounds) to which one is slowly moving, contain, through their flickering, all information on the harmonization of the scanned resonances and the recognition of the "first thought".
The "first thought" includes important insights that help solve the client's problems.
Example of a multimedial exercise