Your power tool for copying subtle information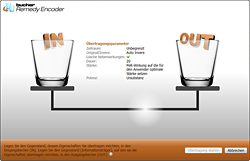 The Bucher Remedy Encoder can be used for various applications
Production of proprietary subtle remedies
Production of own homeopathic remedies
Preparation of individual inverse pathological remedies
Production of subtle food supplements
(E.g. Someone could place medicinal herbs in the IN cup and empty globules or another information carrier into the OUT cup. Through the transfer, all the valuable properties of the herbs are transferred to the information carrier without, e.g. environmental toxins or other harmful substances.
Creation of objects with properties of other objects
(E.g. You could put a diamond in the IN cup and a kitchen knife in the OUT cup. By a copy of the diamond properties on the knife, the blade can stay sharp longer.