Your Power Tool for the I Ching bio regulation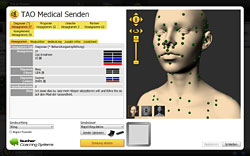 Psycho Cybernetic Medicine with high potential Ritual
All indications of TCM, homeopathy and biological medicine including other known naturopathic such as Biofeedback and radionics.

Treating symptoms and diseases for Chinese type patterns. A large variety of programs to individual application.

Harmonization of spiritual energy centers (chakras) on specific acupuncture points.
In practice, inter alia, proceed as follows:
Classic by needling of points displayed.
By applying sound and color light with multicolor point applicator (see picture). Coupling by detecting the current electrodermal activity.
By bioenergetic regulation on hand electrodes (automatic sequence of the tested resonance points and herbal formulas).
Use of Chinese medicinal herbs and Chinese standard recipes and homeopathic remedies and other remedies.
Telesoma application: Remote treatment with automatic drain (Biodynamic Broadcasting).
Administration of awareness embossed structures (Aqua Lingzhen in 50ml spray bottles, see picture)
Use of Ling Zhen essences for the prevention and treatment to stabilize (50ml spray bottles)
Preparation of specific Remedien by Remedy Encoding on the input and output of the system cup. This reference pattern can be read and subtle information on any information carrier (for example, Aqua Ling Zhen, globuli with no information, healing stones, etc.) are issued again. Likewise, commercially available magnetic cards can be encoded on the magnetic card slot.
Fractalisation therapy-relevant parameters for psychodynamic reinforcing treatment (see picture).
Use of colored light through various VISION-COLOUR lamps (tripod light, panel light, pyramids and globes).
For mobile use of the Bucher TAO Medical tuner is a treatment trolley available, "electrosmog free" can be used with the built-on battery.